Party Piaffe –
Birthday Celebrations with the Ultimate Equestrian style
On a starlight velvet night, we fall silent as through the gates charge proud stallions ridden by elegant riders fire torches in their right hands. It is quite a sight as they spill into the arena forming a cantering circle in front of us, you can feel the heat from the torches and the heavy beat of the mu- sic pulsates through our bodies, people shiver with anticipation – the working equitation fire show begins. A thrilling display made even more so by the closeness and knowledge it was just for us.

It's part of the entertainment at Danish Business man Niels Zibrandtsens 60th birthday party. He is a man that knows how to have fun and celebrate in style, his weekend party was no exception action packed and largely featured equine entertainment combined with Portuguese Culture.
So what prompted a businessman to celebrate his 60th in another country enjoying their culture and traditions?


Horses Making Media Waves
We are increasingly seeing horses become more and more part of our lifestyle. It's not a new phenomenon certainly looking back through the centuries the horse has played vital roles supporting us in our day to day requirements. Not only providing our transport, farm help, even our partners on the battle field but as a major part in our ceremonies. In modern times, with so much available to us the status they claimed had been a little lost they became our friends in sport and leisure riding and less in our events. 
Now all has turned full circle once again horses are everywhere. In advertising, marketing, fashion shoots, dramatic artwork on our walls and seen almost as a stylish lifestyle 'must have' in some form or another. Certainly in our business we are receiving many requests for combined events and weddings in which equines play an important part of the day.
The Dream
Niels's is the chairman of Global Connect which he started 18 years ago and he is also the CEO of Zimbra Digital Media Group with offices in Denmark and Germany. Just a few years ago he and his wife Lisbeth took a trip to Portugal to have classical dressage lessons on Lusitanos. They were so captivated by their experience they bought a farm with the intention to develop a business in eco tourism.The initial plan is well underway with Quinta da Varzea taking a fabulous development under the watchful eye of their equestrian manager Nadja Maria who is also Danish. 
Niels decided he could not think of anything better than to show his family and friends their project and give everyone an authentic experience of Portuguese equestrian culture. So one sunny day we met him and Lisbeth to make a 3 day party plan. After a mountain of organising and more emails than you can imagine we found ourselves early one Thursday morning greeting 80 guests through the arrival gates at Lisbon airport. They were clutching just a party invitation and a whole host of clothes ready for anything! They clearly knew Niels well.
The three day extravaganza took them on a journey of traditional restaurants, Portuguese wines, music, history, manor houses and of course the Lusitano horses and horsemen.
BIG DAY
On the actual party day guests spent the morning discovering the historic, wonderful old town of Santarem finishing up with a light lunch at Ponte de Sol – a restaurant with an expansive view of the surrounding lands. Then back to the hotel to change, hop on the coaches transporting them to Quinta da Varzea to begin the party in ernest. 
Greeted by waiters serving champagne and canapés they enjoyed the afternoon taking tours around the farm on tractor and trailer and 4 by 4's they were shown the farms agricultural projects, the mares and foals and soaked up timeless Ribatejo landscape with it cork oak trees, fruits trees, meadows and wildlife.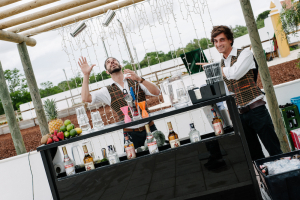 The equine entertainment was without a doubt a major 'WOW' factor.
How could it not be with the stylish pair of grey Lusitanos and handsome driver in the beautiful carriage to give them rides around the farm
A 'Private' show from one of the four most famous classical equestrian schools in the world
The Portuguese School of Equestrian Art. Guests lined the arena as the riders in wine velvet coats and ribbon branded bay Alter horses filled their glaze with a pas de deux, caprioles, levade, pirouettes and a stunning carousel. The elegance and grandeur of the school not lost being performed away from their home in Belem (Lisbon). The show was 45 minutes and more or less matched the weekly show they perform in Lisbon.
Afterwards dinner was served in a beautiful open sided marquee over looking the old house and gardens. It was a Portuguese style barbecue interspersed with Danish style speeches and toasts. At dessert the Fado singers arrived to perform their laments of love, Lisbon, the sea and life of the poor. It's a mournful sound with a sense of longing that cannot help but touch the soul but this handsome Fado group have a lightness to their songs and they perform them with real showmen style they were accompanied with guitars – everyone's captivated. Even the riders on their horses waiting to perform the working equitation show join us to form a respectful line along the front of the marquee creating quite an atmosphere, cameras and mobiles were frantic. 
Immediately after the singing came to a close the guests were invited to follow the riders to the picadeiro where they perform their show culminating in the fire performance.
It was an energising spectacle that sets everyone perfectly in the mood to dance the night away to a talented Danish Band, flown over especially to entertain them.
The Day After
To our amazement after retiring to bed in the very early hours guests wasted no time in being up and ready for the next round of activities. The day planned was as action packed with museum and mini zoo visits, wine tasting at a manor house and Lusitano stud farm called Quinta da Lagoa. Guests were treated to a performance by a traditional Ribatejo group of singers and dancers. The group arrived as booked to perform at lunchtime we were expecting about 8-10 so were delighted and astonished when 30 adults and children tumbled out of the cars. They proceeded to give a charming, fun show even managing to encourage Niels and some guests to join in the dancing.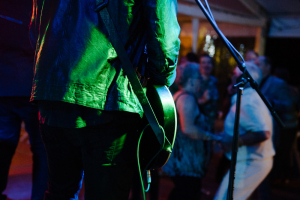 Everyone returned to Denmark feeling satisfied with a special and fun experience – few days they certainly will never forget. I think everyone one of us loves to know that some of the World's tradi- tions are still very much alive and still giving us all so much pleasure. There is no doubt at all that we are set to see more and more equestrian entertainments in our events. Our equine partners bring that extra special something into our lives in so many ways, long may they enthral us and put that little skip in our hearts after all two hearts are better than one.
My thanks to Niels and Lisbeth for allowing me to give a glimpse into their fabulous weekend at Quinta da Varzea.  To find out more about holding a Party celebration or having your wedding in Portugal contact us

Learn more about the Portuguese School of Equestrian Art
Article – Understanding Working Equitation
Looking to buy a Lusitano for classical dressage or working equitation we always have a selection of Lusitanos available for sale
Tourist Board – Visit Portugal
https://www.lusitanohorsefinder.com/wp-content/uploads/2020/05/we-entertainment-1.jpg
665
1000
Teresa Burton
http://www.lusitanohorsefinder.com/wp-content/uploads/2020/04/logo-lusitano-heritage2.png
Teresa Burton
2020-05-26 14:47:43
2021-01-20 10:16:10
Party Piaffe – Celebrating in Portugal