In Conversation with Silvia
Silvia is a talented dress designer with a passion for fashion, historic costumes, horses and the arts. I met her in the summer and instantly knew we could work together. Coupled with her warm, enthusiastic and friendly approach to life she has a highly creative eye for design and clothing. What´s more she lives with her family in one of the most beautiful places in the world……. Terceira Island in the Azores, although she works from home she is regularly in Lisbon.  Her creative designs have led her to work with  film companies as the fashion coordinator and stylish, producing her own collections, private commissions and now fabulous Portuguese riding costumes for ladies.
When she showed me her creations I was immediately captivated. Her fabulous hand made Portuguese riding costumes are stylish feminine and most importantly super flattering. She has added features from history and touches of traditional laces that makes them very special.  These days many of the costumes available in the shops are actually just an adaptation of the men´s costume, they lack the feminine touches and correct shaping for the female curves. Silvia is determined to give women riders the opportunity to have something that really looking stunning, that fits in all the right places and is comfortable.  Each costume she creates is totally personalised to you.  She prefers to work with you to creating your look with fabrics, colours, shape and a perfect fit.
Silvia achieved her fashion degree in the Architecture College of Technical University of Lisbon. She told me  "I finished my studies in 1999, and started working in Maria Gonzaga's Costume Design Workshop in Lisbon, which, at the time, was the largest Costume Design Workshop in Portugal. She designed and made costumes for films, theatre productions and television. I think that it was there, during my training  I discovered my passion for period costumes, mainly 18th and 19th century.  Howver it was only recently I began to combine both, costumes and horse riding.
As a resident in the Azores, it is not possible to direct my creative work in only one way, so my work encompasses a bit of every thing taking me in all sorts of directions which I love, it keeps me fresh. I do ladies fashion, mostly formal wear, for a specific dress code; Costume design for theatre and other artistic performances. My favorite is creating riding outfits because here I can bring in elements from period costumes".
Personalised designs

Portuguese costumes

Silvia Teixeira

I know you have a passion for horses love to hear how it started, do you ride now?

My passion for horses started when I was 8 years old, when I had my first riding lessons at the Campo Grande Riding School, in Lisbon. I´ve had horses in my life ever since that first introduction.  At the time, the Portuguese School of Equestrian Art was located in Campo Grande as well, and I used to watch their training their beautiful Lusitanos in the big arena. Since then I continued my riding taking lessons with several instructors, but  it was only when I moved to the Azores that I had the chance to have my first horse.  I achieved one of my childhood dreams. And only here, in a wonderful place where time doesn't seem to pass, I could strengthen my relationship with horses,  have the opportunity to enjoy them and to really understand what beautiful and simple creatures they are.
Silvia Teixeira
Your costumes are fabulously feminine, as I understand you have researched them through history and this has influenced your designs.

The traditional Portuguese riding costume has it's main reference in the last decade of the XIXth century. The feminine riding outfit – Amazona riding costume – as is known today. However nowadays sadly the modern costume has 

l

ost some of its original characteristics, and has become very similar to the masculine outfit, this is largely 
due to the emancipation of women and the liberalization of social costumes.
The original Amazona's costume from the

Belle Époque

, reflects the fashion from that period, and had a more romantic silhouette. The Amazona's costume, had two different styles: the "true" Amazona riding costume, from the late XIXth century, as it is worn to ride with the Amazona side saddle, and the Amazona costume for riding astride, which is similar with exception from the pants and the skirt, worn after 1940.
Comment by Dr.Gorjão Clara
Dr. Gorjão Clara, author of "The Portuguese Riding Costume" explains, "The costume of the Amazona cannot be reduced to a single model only, Nevertheless, there are some common features that permit us to distinguish the Amazona's costume from that of foreign horsewomen."
As a fashion designer, Portuguese rider, and as a result of my research, I´ve revisited the Belle Époque fashion and introduced some more functional and contemporary elements, maintaining the sillouette, but more updated. As a result, the Amazona costume that I propose, has a more feminine and romantic look: there are two versions for the jacket, one longer and one shorter, corresponding, in general, to both styles of the Amazona costume; the chemise with a small collar is embellished with a little lace or embroidered cotton jabot, and the collar decorated with a satin bow; the pants design is more simple and modern, but maintaining the finish with the thightened cuffs; the skirt for riding astride is cut into bias and has a wider overlap. Instead of the vest, wich is a garment from the male costume, I decided to introduce the underbust corset, as it is a characteristic lady's garment and brings elegance and a bit of audacity to the costume, as well as providing a back support which enhances the riding posture.
Traditional jewellery should be worn as well – the typical filigree earrings in gold or silver are more suitable. The hat is also important, since a lady doesn't ride with a bare head. The traditional feminine hat has two pompoms on the side, in silk or wool. 
The lace you are using on the blouses in hand made from the Azores it really adds a special style to the costumes.

Laces and embroideries are a traditional typology of the Azorean handicrafts. It's typical modern use is mostly in home textiles (such as towels and sheets, table centers and a series of lace inserts on linen and cotton) although we can find some older pieces in fashionable accessories, such as gloves and collars.
I was recently invited by the Regional Centre for Handicrafts of the Azores to design a ready-to-wear collection using the traditional handmade laces. Applying these handmade laces in the riding costumes, as well as the beautiful embroideries, is a way to add value and glamour to the already beautiful Portuguese riding costume, making it special and different, and also a way to disclose and promote the work of the fine Azorean handicrafters.
I am inspired everyday by antiques, films and TV series, music, photography, art, nature. My family and friends and of course riding my horse.
Silvia we are so delighted to be working with you and thoroughly looking forward to developing additions items with you.
Images of Silvia´s work by Lena Saugen Photography and Hugo Duarte.
Silvia Teixeira
by Hugo Duarte
ilvia Teixeira
Portuguese costume designs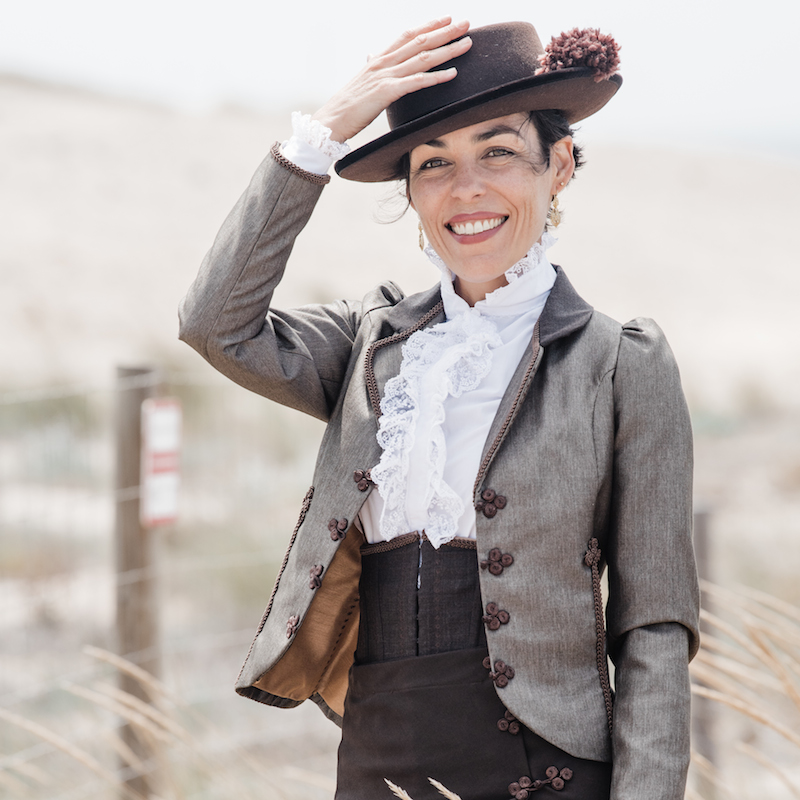 Exploring the Azores on Horse Back!
Silvia is offering a chance to experience a ride through the countryside of the Island where she lives when you order a made to measure costume and go there for your fitting!  Sounds like to perfect excuse to us to have a two in one experience a fabulous feminine costume and a holiday on the stunning Terceira Island.
Terceira (Portuguese pronunciation: [tɨɾˈsɐjɾɐ]) is an island in the Azores archipelago, in the middle of the North Atlantic Ocean. It is one of the larger islands of the archipelago, with a population of 56,000 inhabitants in an area of approximately 396.75 square kilometres (153.19 square miles). It is the location of the Azores' oldest city, Angra do Heroísmo, the historical capital of the archipelago and UNESCO World Heritage Site
For trips to  check out this page Terceira Island  and places to stay  Check out
Images by Hugo Duarte photographer