Quinta do Palhão -Portugal
A Stylish blend of Modern & Traditional Design for an Equestrian Centre
It was a magical moment walking into a seemingly ordinary white barn to behold spectacular wooden beams in a spacious equestrian installation brightened by natural soft sunlight. The atmosphere is calm, harmonious, modern and very functional.
This beautiful place is the new equestrian centre of Classical rider Goncalo Linhas and his wife Nara Franca an equine vet. We felt very fortunate to be with them on the day they moved their first horses into the stables and rode for the first time in their elegant arena.
A long awaited vision is now a reality
Nara told us – "In my vision I saw happy horses and lots of green areas (I have a thing for trees),
I wanted to create a space with plenty of light using organic materials like wood, stone and glass blending modern and traditional with clean lines and plenty of airflow.
An environment where horses can shine, a centre with soul. Also a place where people can be together and share a meal, ideas and knowledge.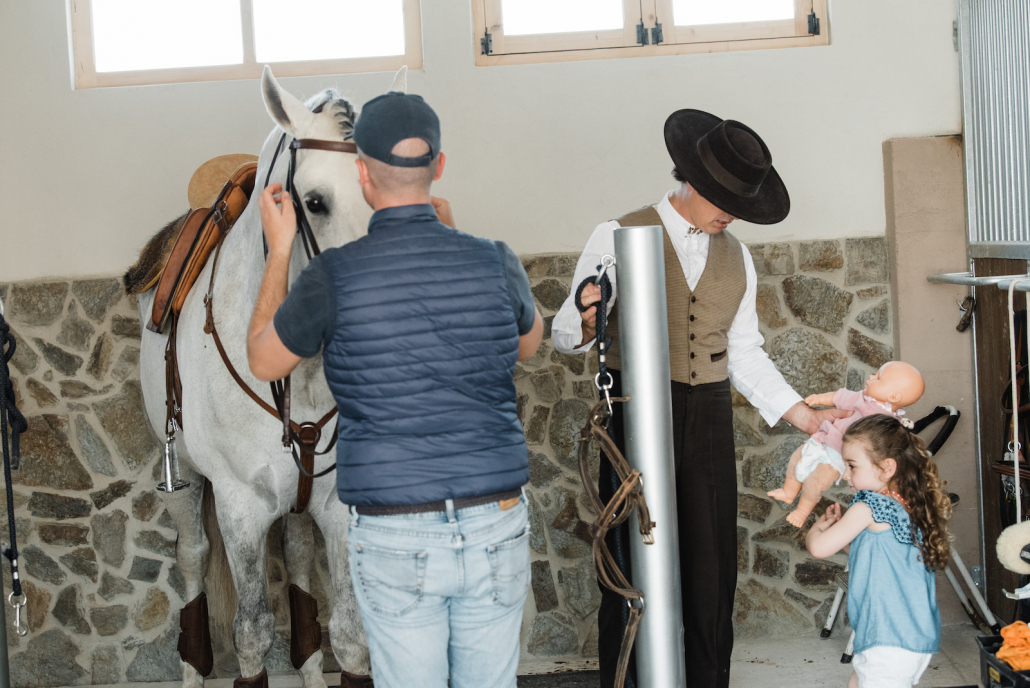 Nara – "It has been a real journey once we decided it was time to start something new the search began. A whole year went by and we found nothing suitable near to us. Feeling frustrated we decided to talk with our neighbour who in the past had his property on the market. To our joy he invited us to take a look – it consisted of two large barns, formerly for pigs, a few smaller ruins and some land.  The barns were in a bad state and from the outside were nothing special so it was a complete surprise to find that even though the roof was partly falling in there were wonderful wooden beams. I immediately had the sense of the potential for the wonderful environment we had dreamed of. 
The beams were the clincher we bought the property.

With the happiness of our horses at heart of the project we embarked on building the dream".
Throughout the pandemic they worked. There were with plenty of ups and downs, Nara admitted at times it felt like they were taking two steps forward and one backwards. Even convincing the builders to not pulled down the wooden beams proved a challenge!  But it was so worth it now they have two beautiful barns for the stables, grooming, washing, solarium, tack room, bathrooms, kitchen, an arena and viewing gallery.
Goncalo and Nara have lots more future plans which include, paddocks, outdoor arena, lunging circle, rider accommodation and staff house.  The old stables will be retained and this will be where the mares and young horses stay. Nara is also keen to organise wine and cheese tastings, clinics and Fado nights. We look forward to an invite
Quinta do Palhão is in Vila Chã De Ourique, Santarem, Portugal you can contact them via Facebook.
Learn about About Goncalo Nuno da Fonseca Linhas and Nara Franca
Text by Teresa Burton Lusitano Heritage

Photography – Lena Saugen Photography
Nara and Laura´s costumes by Silvia Teixeira  Equestrienne
Goncalo´s costume – Ondina Crespo
Grey and Isabel Lusitano Stallions owned by Laura Gosch
Laura is a student training with Goncalo and you can learn more about her here Laura Gosch