In 2011 Dylan Jones owner of Dolbadarn Film Horses came to us looking for Lusitanos suitable for ridden and carriage work in films.
The brief  – to find Dylan beautiful, calm, bold horses  with a great working ethic already ridden preferred.
After a search we came up with two stunning black half brothers from the Alter Stud Farm.  Casquito AR and Choque AR. They were already lightly ridden and had been briefly introduced to carriage work. Now 8 years later it is great to report on how they are doing so we asked Dylan to give us an update.
Casquito AR
Casquito is a very reliable horse, intelliegent and talented in film work so much so he has been in training to take over from my top horse Diablo and become to be my own steed on film work. As of late , we have worked together on the BBC's Merlin , BBC's Atlantis …. Ridley Scott's Exodus…Guy Ritchie's King Arthur, The Crown …. Game of Thrones " Battle of the Bastards" and was a double horse for the up and coming HBO's Watchmen series , coming out later this Year.
Games of Thrones
We were first called up a few Years ago when asked to supply horses for the big battle scene called " The Battle of the Bastards" . We were subcontracted by the Devils horsemen who are the main horse suppliers for the show. There were over 80 horses in total we took 4 with Casquito being was one of them – I rode him into battle!
Since then I've gone on to work in the last 3 GOT seasons located in Ireland and Spain as an actor double , Carriage groom and ground safety crew.
It was an Amazing opportunity to be involved in such a globally successful film series. Also to work with such an experienced team as The Devils Horsemen and the action/stunt riders from all over Europe is a memory I will cherish always.
Image Dylan and Casquito behind the scenes on the GOT film set
Choque AR
Choque on the other hand is a totally different story. a great beauty and natural dressage horse, he is super sensitive and responsive. Thus he has been slower to develop, over the last couple of years has started to excel in liberty work. He has worked in many photo shoots, performing at liberty and ridden. Also he has starred in a commercial advert for Clogau Gold ( Welsh Gold) and more recently  performed at liberty as a rearing horse for an art gallery  promotion film  down in Levesden Studios.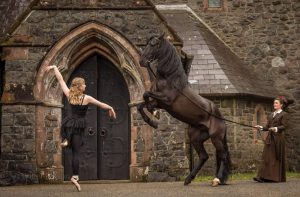 For more information about Dolbadarn Film Horses
read their story
  Or go to their website
Photography Credits –
Header Image Sharon Prenton Jones – Black and white Dylan on Casquito 
Behind the scenes of Game of Thrones film set
Other Images from a DOLBADARN film horses photography day.  Contact Dolbadarn for information on these days.

Behind the scenes of Game of Thrones film set
https://www.lusitanohorsefinder.com/wp-content/uploads/2019/05/jasmine-3.jpg
1360
2040
Teresa Burton
https://www.lusitanohorsefinder.com/wp-content/uploads/2020/04/logo-lusitano-heritage2.png
Teresa Burton
2020-04-23 12:05:10
2021-01-18 19:53:23
Lusitanos in Film Casquito AR & Choque AR